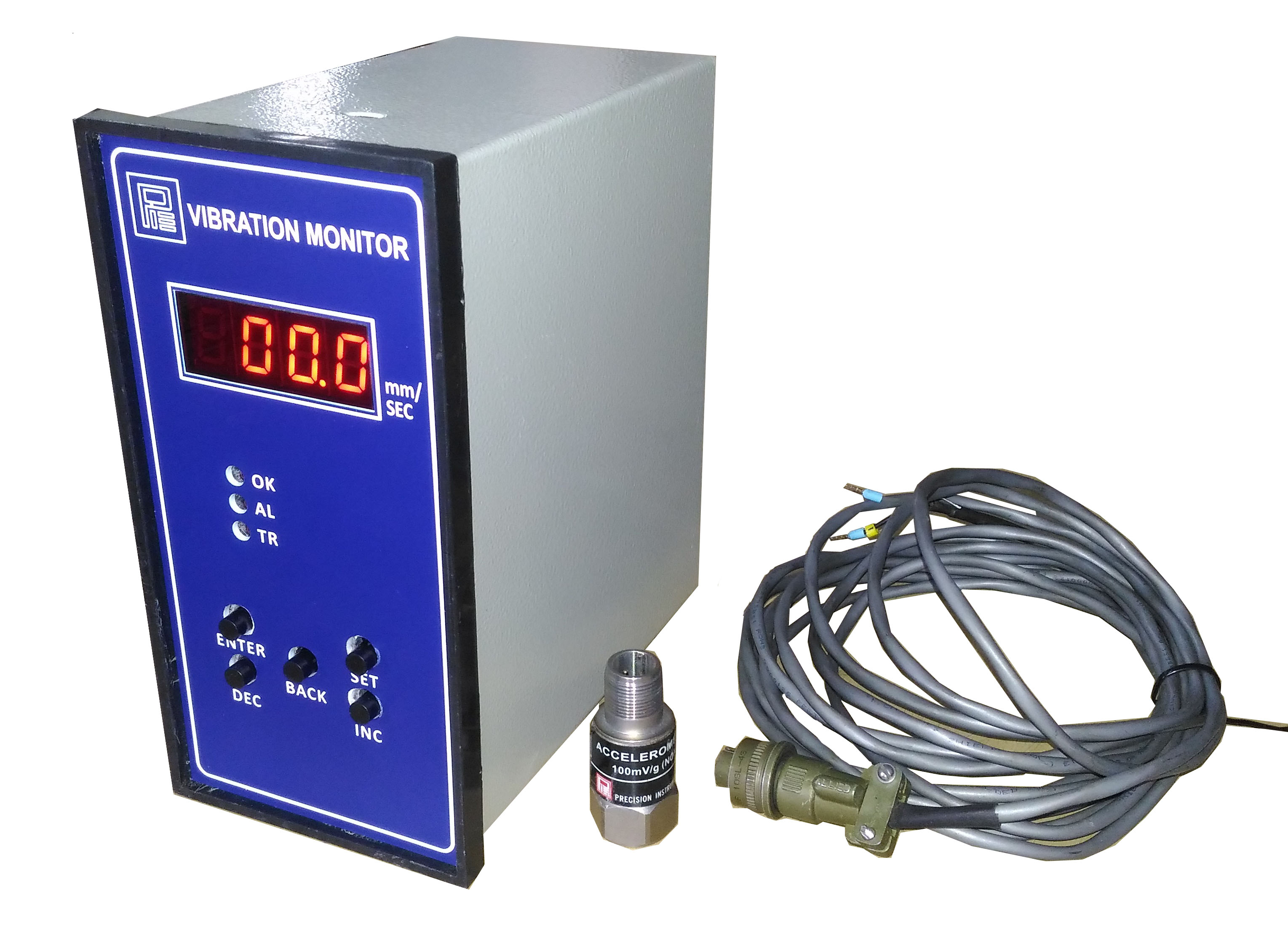 Precision Vibration monitoring system provides essential protection for the critical equipment likes fans, Motors, pumps Compressor. It Measures the vibration with accelerometer when it is mounted on the machine and generates relay output for Alarm or shutdown the vibration levels exceed the preset threshold value.
Precision Vibration monitor has brought digital display and front end key available for set point. User can Set their Alarm and Trip Velocity using available keys in the front end.
Precision Vibration monitoring system has user friendly system comes with the multiple channel, it vary depends upon the user requirement.
Features
Optimum Output
Top Class Quality
Hi-tech Technology Used
Specifications
S.No

Specifications

Details

VIBRATION MONITOR - DISPLAY

1

Model No

1800S

2

Type

Microcontroller based with inbuilt Digital Display

3

No of channel

1 or 2 or 3 or 4 (As per customer requirement)

4

Input

From Contact type Accelerometer

5

Measured Variable

0-50mm/sec RMS (As per customer requirement)

6

Input impedance

50kΩ

7

Input Sensitivity

100mV/g

8

Standard

As per API 670

9
Environmental Condition

0 to 65˚C

10

Display type

7Segment ½" LED Display

11

No of Digit

Four

12

Resolution

1 digit

13

Indication Provided

Alarm - 3mm LED
Trip - 3mm LED

OK - 3mm LED

14

Output

4-20mA DC Analog output for each channel / 0-2V DC

15

Output impedance

100ohms(load resistance)

16

No of Relay

Two for Alert and Trip

17

Relay contact detail

1A,240VAc/220VDC, 1C/o relay

18

Power Supply

230V AC @50Hz

19

Enclosure

IP 55